Message from the Representative Directors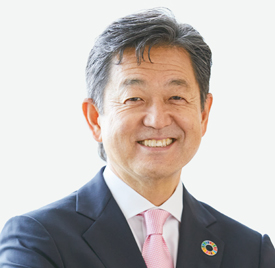 In April 2021, Mitsubishi HC Capital Inc. was born from the business integration of Mitsubishi UFJ Lease & Finance and Hitachi Capital.
We will develop an advanced asset business around the world that goes beyond the mere leasing companies and create new values by solving social issues.
Aiming for "Voyager to the Frontier," we started this journey to evolve new business fields with a pioneering spirit by leveraging the experience and expertise of both companies having different backgrounds of being a bank- and trading house-affiliated company and a manufacturer-affiliated company.
We will contribute to realizing a bright and hopeful future society as well as richer life for people by accurately grasping social changes and needs while operating a unique and progressive business in consideration of the global environment.