Corporate Governance
Basic Views of Corporate Governance
The Company recognizes that it is one of our social responsibilities to ensure transparent and sound management, while emphasizing initiatives to achieve sustainable corporate growth and a medium- to long-term improvement in corporate value. Respecting the rights and interests of all of our stakeholders—shareholders, customers, local communities, and employees—we work to fulfill the trust they place in us, and aspire to contribute to a more prosperous society. To fulfill these social responsibilities, we engage in continuous initiatives to enhance corporate governance by boosting the activity of the Board of Directors, reinforcing the Audit and Supervisory Committee and the internal audit system, ensuring timely and appropriate disclosures of information, improving investor relations (IR), and related activities.
Corporate Governance Structure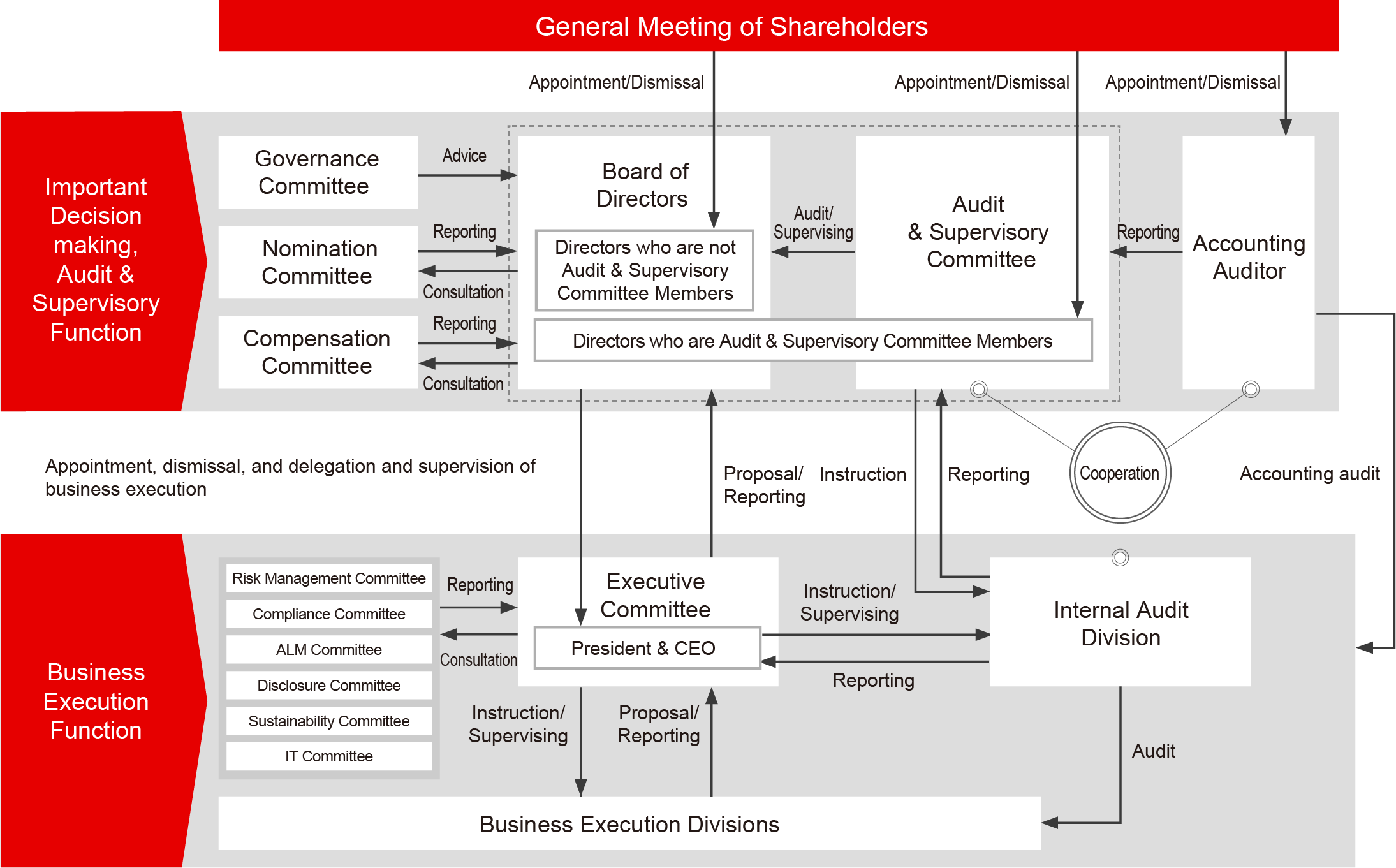 Overview of Corporate Governance Systems
The Company conducted a business integration through the merger with Hitachi Capital Corporation as of April 1, 2021 (the "Business Integration"). In conjunction therewith, the Company transitioned into a company with an audit and supervisory committee in order to enhance the fairness and transparency of management, strengthen the supervisory functions of the Board of Directors, and enhance corporate governance.
As a company with an audit and supervisory committee, the Company delegates many business execution decisions to the Executive Committee, a body which will deliberate and decide on important management matters, and expedites the decisionmaking process, with the aim of strengthening the supervisory functions of the Board of Directors.
In addition, the Company has introduced an executive officer system, in order to further enhance and invigorate the functions of the Board of Directors by clarifying the responsibilities related to the execution of business. The Company has 15 Directors (including seven Outside Directors) and 34 Executive Officers (six of whom concurrently serve as Directors) as of June 29, 2021.
Corporate Governance Report