Efforts on Sustainability
Basic views on sustainability
The Company believes that Efforts toward sustainability-among them, protecting the global environment, respecting human rights, and embracing diversity-are an essential responsibility to society that corporations should fulfill. To continue to survive, corporations must pursue long-term growth while gaining the trust of their stakeholders by engaging in business activities that seek to resolve environmental, social, and economic issues.
With this fundamental understanding, and to lead and promote sustainability-based management, the Company established a Sustainability Committee in April 2021 to better contribute to the realization of a sustainable and prosperous future. The Sustainability Committee is positioned as an advisory body to the Executive Committee, and aims to lead and promote sustainability efforts in a way that is unified with the management strategies. The Sustainability Committee is chaired by the Head of Corporate & Strategic Planning Division, and its members comprise Executive Officers in charge of business departments and the corporate center, including the President & CEO. The committee implements a wide range of activities-including checking the progress of activities and the level of achievement of targets in non-financial sectors, deliberating over new activities, and discussing non-financial indicators-and reports the results to the Executive Committee and the Board of Directors.
Sustainability Promotion Framework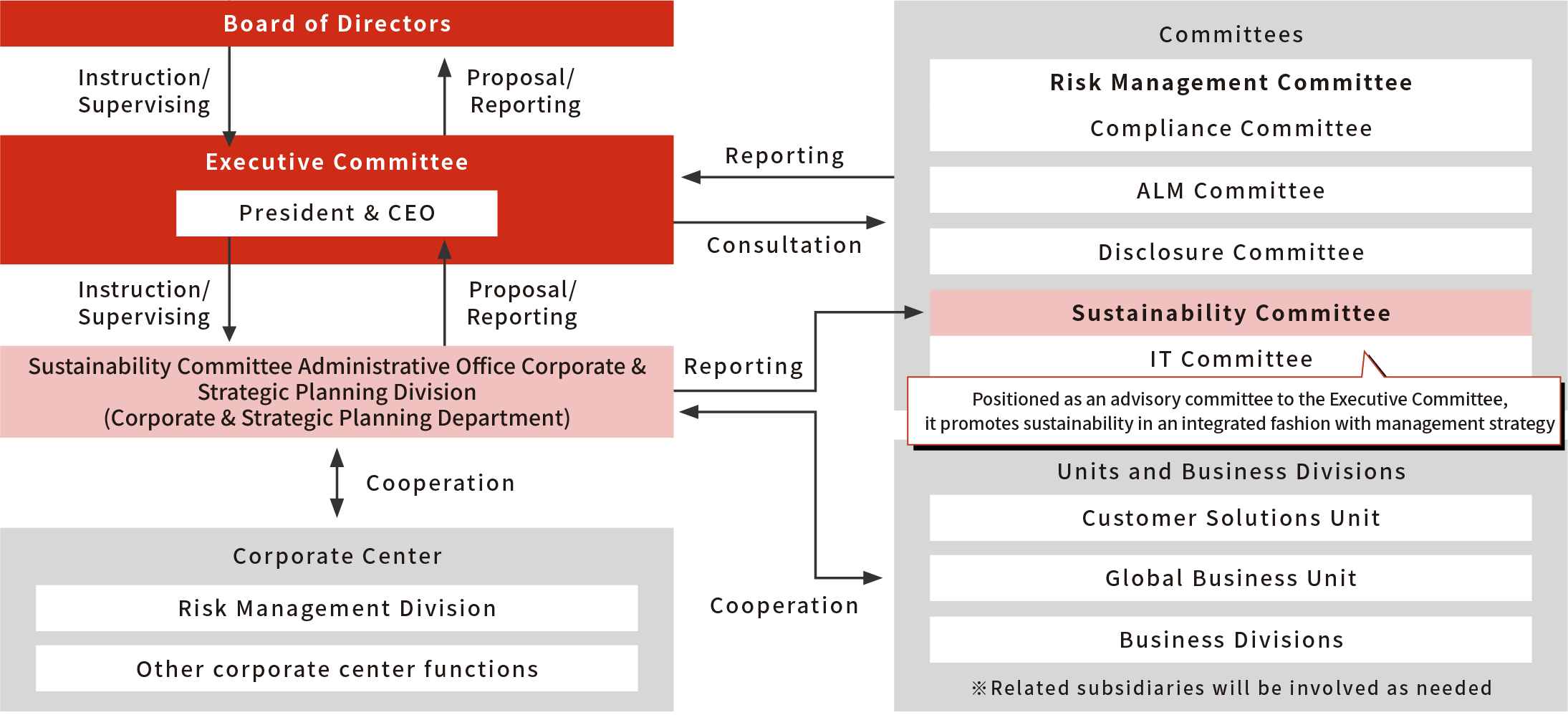 Investment in human capital and intellectual property, etc.
The Company's vision includes fostering of an open, creative, and engaging corporate culture that shapes each and every employee's motivation and pride. The Company established the Diversity Promotion Office with the aim to help diverse talent to play an active role by taking advantage of individual attributes such as nationality, age, and gender, as well as taking advantage of diverse values. The Company has actively worked on the development of work environment where every employee can efficiently work with motivation and vitality as well as the enhancement of the systems to support a good balance between work and family.
Our diversity promotion includes the promotion of work-life balance and the support for the development of the next generation, including women empowerment. The Company has also developed and promoted a healthcare system comprising "self-care", "care for the line by managers", and "care by internal healthcare staff (HR)", aiming to promote the health of employees.
The Company is also strategically making use of computerized information (software and database), innovative property (R&D and licenses), economic competencies (talent (human capital) and organization) and other intangible assets, regarding them as important for sustainable growth.
With the vision of the enhancement of corporate value by utilizing digital technology and data, the Company has been formulating medium- to long-term digital transformation strategies and promoting digital transformation initiatives.
At the same time, the Company is working to develop talent who are positive about digitalization by promoting self-development of employees, such as promoting the acquisition of related qualifications as a part of the education system.